Course details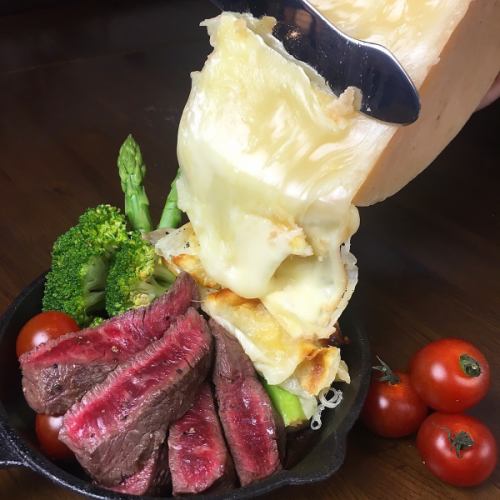 【Mon ~ Thu Limited】 Okayama Prefectural Produce Bizen x Flower Field Ranch Approx. 150 species with Raclette Cheese 2H [Drinking] 3800 yen → 3300 yen
By using a coupon3300 yen
※ Sun - Thu Limited / Friday, Saturday, Sunday, Holidays, The day before holiday is 3800 yen.
6items

2persons

~

All-you-can-drink available

Over 120 kinds of all-you-can-drink ♪ (30 minutes before LO)
Finally the popular "Raclette cheese" course for women finally comes to luxuriously Okayama prefecture Bizen Kuroba, plenty of hot and cold cheese ♪ In addition, fresh salad of 10 kinds of vegetables and famous Hakata "Yamaaya It is a course of many popular menus such as cream pasta with "Mentaiko of Mentai".※ Fridays, Saturdays, Sundays, holidays, the day before holidays, is 3800 yen.
Menu
One example - of one day
Assortment of raw ham and cheese
■ Fresh salad using ten kinds of vegetables
Rakuto plenty of cheese of flower field ranch on Bizen black cow from Okayama prefecture
Deep-fried deep fried chicken of Oyama
■ Hakata specialty Yamaya mentaiko's cream pasta
■ Special homemade coffee jelly
※ There is the case that the contents are subject to change by buying situation.Please note.
* In the case of cancellation, we will charge a cancellation fee.
Cancel the previous day → 50% of the amount
Cancellation on the day → 100% of the amount
All-you-can-drink menu
·sour
· Lemon / grape / lime / apples / white grapefruit
·Highball
Cola highball / Ginger highball
·wine
· Glass wine 【Wine cocktail】 Kiel / Splitzer / Kitty / Carimocho / Operator
·Cocktail
· · 【Kalua】 Kalua milk / Kalua Orange / Kalua Coke / Kalua Rickey 【Gin】 Jin Ricky / Gin Tonic / Jinbac / Orange Blossom 【Vodka】 Screwdriver / Bulldog / Vodka Ricky / Moscommeure 【Passoa】 Passoa Orange / Passoa Pine / Passoa grapefruit
·Cocktail
· 【Campari】 Campari Orange / Campari Soda / Campari Cola / Campari Grapefruit 【Yoghurt】 Yogurt Orange / Yogurt Pine / Yogurt Ginger / Yogurt Grapefruit 【Peach】 Peach Milk / Peach Rickey / Peach Grapefruit
·Cocktail
· Lychee Orange / Lychee Tonic / Lychee Rickey / Lychee Grapefruit 【Cassis】 Cassis Orange / Cassis Milk / Cassis Grapefruit / Cassis Soda / Cassis Oolong 【Mango】 Mango Orange / Mango Ricky / Mango Pine / Mango Grapefruit
·Cocktail
· 【Green Banana】 Green Banana Milk / Green Banana Tonic / Green Banana Back / Melon Soda 【Malibu】 Malibucoa / Malibu Pine / Malibu Tonic / Malibu Rickey
· Plum wine & shochu
· 【Plum wine】 Rock / Soda / Water split 【Wheat Shochu】 Rock / Soda / Water split 【Potato Shochu】 Rock / Soda / Water split
·Soft drink
· Green tea / oolong tea / cola / ginger ale / orange juice / grapefruit juice / apple juice / pine juice / soda / tonic
Reservation deadline

Visit of hope the day before until 23:00
Available days for reservation

Monday - Sunday - Public holidays - Holidays
Coupons that can be used with this course
2018/10/11 update