Course details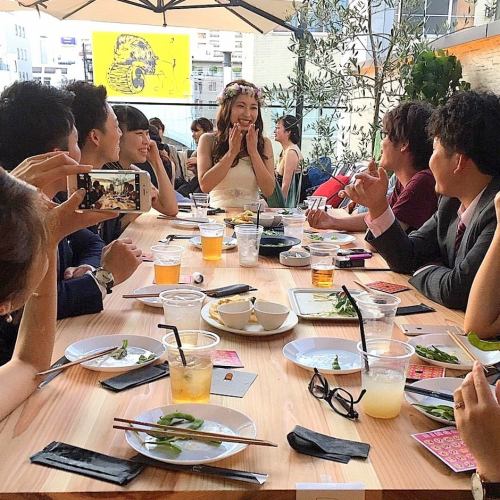 ~ wedding ~ 【store rental】 buffet format & draft beer OK !! 2 H "All you can drink" with 3500 yen
7items

50

-

100persons

All-you-can-drink available

Also beer OK !! Over 120 kinds of all-you-can-drink ♪ (30 minutes before LO)
It is a store rental plan including boasting terrace seats.We accept from 50 people up to 100 people.Projectors, wireless microphones and bingo games are also available.
Course menu
~ An example of one day ~
Buffet format
■ Salad
Fresh salad with ten kinds of vegetables
Appetizer
Potato & Edamame
■ Hors d'oul
fried
■ Sub-Main
Margherita pizza
■ Dessert
Wedding cake & fruit (Wedding cake is charged separately)
Usually a pound cake
* The contents may be changed depending on the purchase situation.please note that.
【Facility】
2 projectors
Bingo game
Luggage storage available
wireless microphone
【option】
flour
Extension of all-you-can-drink: 60 minutes / 1500 yen per person
※ All three hours (from entry time to leaving shop) I will assume.
* In the case of cancellation, we will charge a cancellation fee.
Cancel the previous day → 50% of the amount
Cancellation on the day → 100% of the amount
★ I think that I will be able to respond to requests as much as possible, so please do not hesitate to contact us as any trivial matter.
All-you-can-drink menu
·beer
·beer
·sour
· Lemon / grape / lime / apples / white grapefruit
·Highball
· Coke high ball / ginger high ball
·wine
· Glass wine 【Wine cocktail】 Kiel / Splitzer / Kitty / Carimocho / Operator
·Cocktail
· · 【Kalua】 Kalua milk / Kalua Orange / Kalua Coke / Kalua Rickey 【Gin】 Jin Ricky / Gin Tonic / Jinbac / Orange Blossom 【Vodka】 Screwdriver / Bulldog / Vodka Ricky / Moscommeure 【Passoa】 Passoa Orange / Passoa Pine / Passoa grapefruit
·Cocktail
· 【Campari】 Campari Orange / Campari Soda / Campari Cola / Campari Grapefruit 【Yoghurt】 Yogurt Orange / Yogurt Pine / Yogurt Ginger / Yogurt Grapefruit 【Peach】 Peach Milk / Peach Rickey / Peach Grapefruit
·Cocktail
· Litchi Orange / Lychee Tonic / Lychee Rickey / Lychee Grapefruit 【Cassis】 Cassis Orange / Cassis Milk / Cassis Grapefruit / Cassis Soda / Cassis Oolong 【Mango】 Mango Orange / Mango Rickey / Mango Pine / Mango Grapefruit
·Cocktail
· 【Green Banana】 Green Banana Milk / Green Banana Tonic / Green Banana Back / Melon Soda 【Malibu】 Malibucoa / Malibu Pine / Malibu Tonic / Malibu Rickey
· Plum wine & shochu
· 【Plum wine】 Rock / Soda / Water split 【Wheat Shochu】 Rock / Soda / Water split 【Potato Shochu】 Rock / Soda / Water split
·Soft drink
· Green tea / oolong tea / cola / ginger ale / orange juice / grapefruit juice / apple juice / pine juice / soda / tonic
Reservation deadline

Until 23 o'clock the day before the store visit date
Available days for reservation

Monday - Sunday - Public holidays - Holidays
2019/01/10 update